Our Other Websites
* Courier/Shipping charges are extra as depend on your order.
* The much you buy the less will be shipping charges.

| | |
| --- | --- |
| Horse Drawn Carriages For Touring Joy Rides | |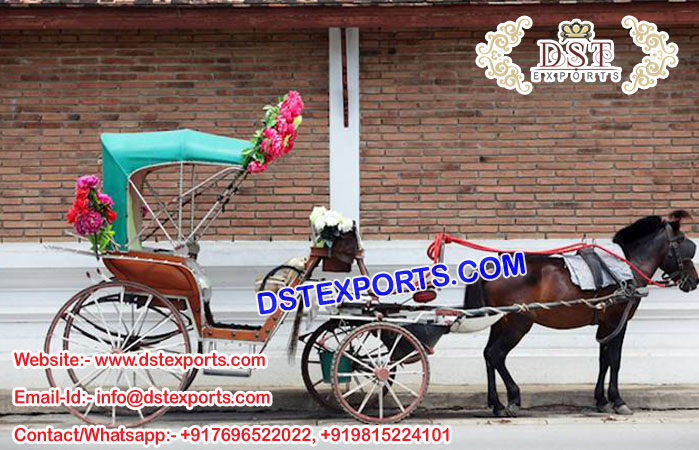 Dst Exports are original manufacturers and exporters of all type of Horse Drawn Carriages such as Cinderella Horse Carriage, Vice Versa Horse Carriage, Two Seater Horse Carriage, Victoria Horse Carriage, Surrey Carriage, Passenger Tourist Carriage, Multi Purpose Carriage, Horse Drawn Landau, Horse Drawn Surries, Horse Drawn Hearses, Funeral Carriage, Atm Fitted, Vending machines fitted carriages, Horse Drawn Carriage, Pleasurable Room Type Gipsy Caravan Carriage, Horse Drawn Gigs, Horse Drawn Mini Sleighs Glass Coach Type Horse Drawn Carriage, Phaetons Traditional baggies / Tangas to Victoria type Vice Versa Covered Room Type, Royal Glass Coaches Presidents Presidential Carriages Guard of Honor Republic Day Celebration Carriages Wedding Purpose Carriage School going kids Transportation purpose carriages Religious Priests Baggies Procession Carriages Advertisement purpose.

These carriages are totally handmade and very strong for long life. Chase or body of the carriage is made of ms steel fabrication. Excel Shafts are ms steel and fitted with bearings. Steering is very soft moving like power Steering of cars and made of wood and steel. Wheels are wooden with steel rims with rubber. Top body is made of treated wood. Seats are very beautifully furnished with leather foam and crystals. The design of this carriage is very beautiful and attractive.This carriage is totally folded and flexible. Sometimes the weather is not good, you can open this carriage to escape yourself. We can use this for multipurpose include:- entrance of weddings, stage decoration, events, anniversary etc. This carriage has presidential look.